Early German families found their way to land along the Johnson and Linn County lines and settled on what would become Fackler's Grove.
Christopher Furmeister gave the land on which the first church was erected in 1855. It was dedicated March 2, 1856 as St John's Evangelical Church under the Rev. H.T. Ealy. Services were held there for 30 years.
Bohemian immigration to the area begins as the Civil War ends.
In 1877, the city of Ely was laid out and established.
A new church was purchased in 1886 for $250 from the Methodists.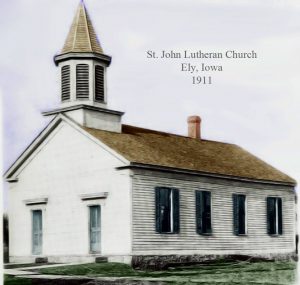 On November 3, 1904, the Dorcas Circle of St. John Lutheran is formed.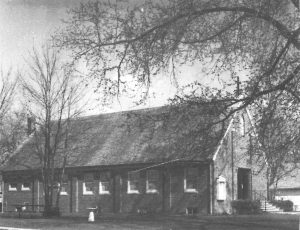 In 1950 the old church building was sold. Then on August 25, 1951 St. John's third church building was dedicated. The cost to build was $27,779.
in 1960 the American Lutheran Church (German), United Evangelical Church (Danish), and the Evangelical Lutheran Church (Norwegian) merged to form the American Lutheran Church (ALC)
The ULCA (German Slovak and Icelandic) joined with the Augustana Evangelical Lutheran Church (Swedish), Finnish Evangelical Lutheran Church and American Evangelical Lutheran Church (Danish) to form the Lutheran Church in America (LCA).
Parsonage built at 1660 Rowley Street for $14,119 in 1964 and was dedicated on November 21, 1965.
In 1988 the Association of Evangelical Lutheran Churches (AELC), Lutheran Church of America (LCA) and American Lutheran Church (ALC) combine to form the currect Evangelical Lutheran Church of America (ELCA).
In 1994 the church expanded to include a fellowship hall, new offices, and elevator, and air conditioning was added.
In 2007, the people of St John adopted the mission statement, "We confess Jesus Christ as Lord and Savior, and conform our lives to his by: Being a Presence in the Community, Nurturing Children in the Faith, Providing a Place to Belong, and Showing Compassion to those in Need."
The first chimes for the bell choir were purchased in 2012.
First Stephen Ministers were commissioned at St John in 2013.
Newest expansion to the church is completed in 2014. It includes a new sanctuary, entry, classroom space, additional fellowship space, and a new library and conference room.