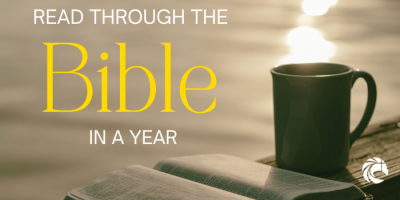 As part of our commitment to grow in faith towards God, we invite you to join us as we read through the Bible in a year.
Beginning Sunday November 27, 2022 (the first day of Advent) and continuing through the next 365 days we will be reading through the Bible.
We do this because we believe that the Bible contains God's Word to us and that in this text we hear the truth.  The truth of God's love for us in Jesus Christ, of the story of God's pursuit of God's people, and how we fit into that story.
You can join us on this journey of discovery.  It will take about 10 minutes of reading a day and there are plenty of resources to help you deepen your understanding, opportunities to ask questions along the way and engage in conversation with one another.
What resources are there to help me read and begin to understand what I'm reading?  We are using a reading plan from The Bible Project.  This website and YouTube channel are a great resource about the Bible, the various books we find in it, ideas, concepts and words and what they mean.  The reading plan will have a book and chapters for each day.  For some days, there will be an accompanying video and/or blog post that will provide some deeper understanding if you want to dig deeper.  Most of the videos are 7-10 minutes long.
Why do this?  As Christians who happen to be Lutheran, we believe that the Bible contains the Word of God to us.  That it is the rule and norm of our faith.  That the Word of God we find in this text speaks truth to us that frees us from what binds us.  That we find in it the story of God's pursuit of God's people and in reading it we learn how we fit into this larger story.  Ultimately, to better know God, especially through God's Son, Jesus, we read these texts.
Why a year and how are we reading the Bible?  While not a calendar year (January – December) we are reading the entire Bible in one liturgical year (Advent – Advent).  We chose a year because it is a manageable commitment both in terms of length (One year) and time required each day.  We are reading the Bible in the order it is put together (Genesis – Revelation)
How long will this take each day?  Most of the days will have 2-3 chapters from scripture plus a psalm to meditate on.  At a moderate reading pace, you should be able to do the reading in 10 minutes or less.  Maybe while you are drinking your morning coffee, or during a lunch break, or right before you go to bed would be good times to do this.
How do I make this easier?   Determine a time and location to spend your 10 minutes or so.  It is best to have a consistent time and a quiet place where you can regularly meet God in scripture.
What if I miss a day(s)?  Over the course of a year, we will all miss days.  Just do some extra reading at another time.  The daily discipline is good, but the point is to do a mindful reading of the entirety of scripture.
5 ways to dig deeper as you read!  Here are 5 different ways to dig deeper into the Bible as you read.  These exercises will encourage meditation on the Word. Try a single idea for a week to find what works best for you. Remember to keep a pen and paper ready to capture God's insights.
Underline or highlightkey words or phrases in the Bible passage. Use a pen or highlighter to mark new discoveries from the text.
Put it into your own words.Read the passage or verse slowly, then rewrite what happened in your own words.
Ask and answer some questions.Questions unlock new discoveries and meanings. Ask questions about the passage using these words: who, what, why, when, where, or how. Jot down your answers to these questions.
Capture the big idea.God's Word communicates big ideas. Periodically ask: What's the big idea in this sentence, paragraph, or chapter?
Personalize the meaning.Respond as God speaks to you through the Scriptures. Ask: How could my life be different today as I respond to what I'm reading?